The Importance of Precise Estimates
We've got a rather old bathroom scale.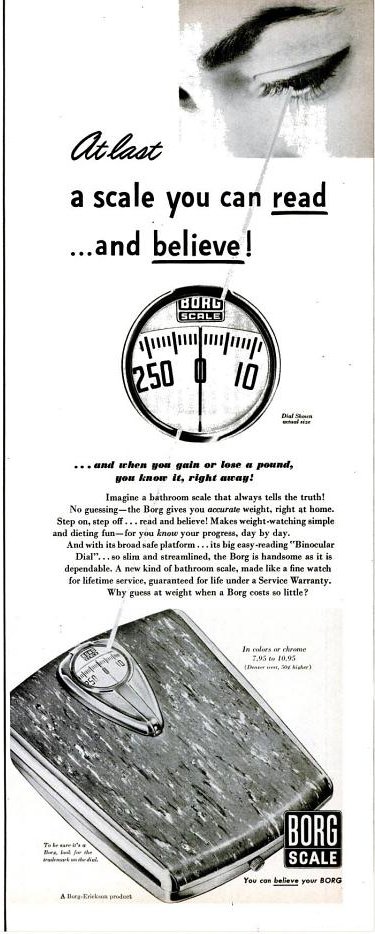 I've found advertisements for this model ranging from 1949 to 1954.  My wife inherited it from her mother.  When we first got it, we set the "zero" weight to three pounds to give the "correct" weight.  Now it's set closer to five pounds when nothing is on it.
The readings it gives are a little inconsistent.  When you bounce lightly up and down, you may get a different reading.  (I tend to take the smallest number I can get.)
My weight seems to vary from day to day, also.  Some days I eat more.  Some days my body seems to be bloated with water.  I'm up two pounds one day and down two the next.  This can happen within a day, also, prompting my wife to warn me, "Never weigh yourself in the evening."
We've talked about getting a new scale.  I almost did, once.  But this one works pretty well, all things considered.  It's good enough for me to "watch my figure" as the advertisements put it.  I don't need to "know right away" if I gain or lose a pound.  There's that much noise in the data, and precise measurements won't take it out.
In fact, knowing that the measurement is imprecise makes me worry less about the small variances.  I don't try to calculate the percent gained or lost in a day.  Instead, I just watch the trends.  And this scale is great for that.
Recently I was talking with a client who wanted to estimate what functionality his team could release within the next 18 months.  He was concerned that they were only estimating stories for the next iteration.  I showed him how you stack the features on the vertical axis of a burn up chart, graph the features already done, and eyeball what could be included in the next 18 months.  In fact, if you wanted to, you could indicate the potential size range of a feature, and plot both a slow and fast development rate, giving an approximate trapezoid of possibility.
He wanted a mathematical calculation. <sigh/>  You can do that, of course.  You can convert everything to numbers.  You can apply adjustment factors and confidence percentages.  And you can calculate some very precise numbers.  You can recalculate them daily and worry over small changes in those numbers.
But what does it change?
The estimation of the size of the work, even after it's done, is a guess.  The measurement of progress is fraught with inaccuracies and unknowns.  This means that any precise number you calculate from your estimates is still a guess.
Why spend all that effort?  A precise guess is of no more use than a rough idea.  Maybe less, because the rough idea makes it plain that these results are just the best guess we have at the moment.  Precise numbers have a way of hypnotizing you into thinking you know.
My advice is to
measure your progress
watch the trends
project the trends tentatively into the future
and relax.  It'll work out the best it can.  False precision won't make it any better.